This reported from The Chicago SunTimes......
..."Olesz was put on waivers Wednesday before the Hawks played the Vancouver Canucks. If he clears, the Hawks have the option of sending him to the Rockford IceHogs. Another team can also claim him. Both situations would help the Hawks' salary cap since Olesz carries a hefty hit of $3.125 million. The Hawks also could recall a player with Olesz gone."...
Ben Smith will most likely be the person called up from Rockford.
The Blackhawks, gave Olesz an opportunity, but he didn't produce. He's been seeing extremely limited ice time and more times than not,....he's been a healthy scratch. The Hawks would love to move that salary to Rockford, bring up a WAY more talented Ben Smith who's making 1/3 the income, and have a truly balanced roster.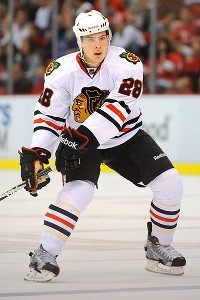 Ben Smith
The only person that I feel that should have made this team that isn't on there is Brandon Pirri. He may get an opportunity sometime,...we shall see. Ben Smith, however, was proving that he was NHL ready in his short time in Rockford. He didn't pout after being sent down,...he just did his job. He's going to earn a lot of Chicago fans very shortly. This is a very good move by the Hawks brass.