Joel Quenneville stated that Ray deserves more time in net as Corey Crawford is working on some things. (I hope what they're working on is his ability to not give up so many goals).
The Hawks are doing well this month including two AWAY wins.
I just saw a little video clip from Jesse Rogers the ESPN Blackhawks correspondent where he was interviewing GM Stan Bowman. He asked if Stan was trying to better his team and Stan did say he's had conversations with teams around the league. He's got more cap room than about 3/4 of the teams out there, so this could help. Stan pointed out that many teams aren't willing to make a deal yet. Not until they've ruled themselves out the 2011-12 playoff race...then maybe the deals will be more readily available.
Side note: Patrick Sharp and his wife Abby just had their first baby born as he was coming home from NY. It's a girl. Madelyn Grace Sharp was born at Northwestern Hospital. Congratulations to the Sharp family.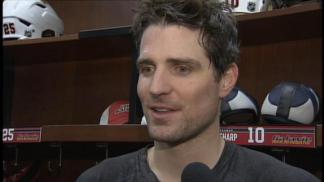 In the last game, Marian Hossa banked a shot off Al Montoya's back in for a score for his career 400th career goal. Congrats to Marian Hossa.
Last, but not least Brent Seabrook isn't considered an old guy in this league,...not buy a long shot. However, he's going to be playing in his 500th game on Sunday. Congrats to Brent.
Let's hope these congratulations continue as the Hawks play a heavily home scheduled month.