I had so much fun doing this a week ago, that I thought I'd do it again. Instead of a cut and paste, I'll just write down tweets and things I've read that grabbed my attention.
1) The Blackhawks bandwagon is bigger than Rick Ross' stomach.
2) Blackhawks,...you're annoying.
3) Corey Crawford currently leading the NHL goaltenders with a 1.41 GAA.
4) The Blackhawks lead the NHL in takeaways, but rank 29th in HITS. Play the puck, not the man?
5) The Blackhawks are 31 - 2 -7 since acquiring Johnny Oduya.
6) The Blackhawks bandwagon is bigger than Bryzgalov's 5 hole.
7) The Blackhawks streak is starting to become a THING,...right?
8) Mike Babcock, "It's amazing. In a competitive league, they're not making it competitive".
9) ARE YOU NOT ENTERTAINED? (photo)
10) I've always been a Blackhawks fan... I Swear!
11) The Blackhawks bandwagon is now as big as Sidney Crosby's ego.
12) So, have the Blackhawks clinched a playoff spot yet?
13) The Blackhawks have moved up to the #3 story on ESPN.
14) So, the Blackhawks won today. In other news,...there still is water in Lake Michigan.
15) YOU THOUGHT YOU WERE GOING TO WIN
didn't you Detroit?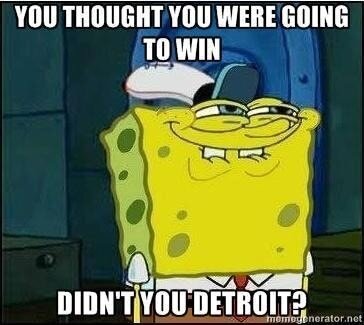 16) Dad, what's a loss? I don't know son, we're Chicago Blackhawks fans.
17)
18) Blackhawks keep amazing streak alive. But first,...Tim Tebow saw a butterfly in his backyard -Sportscenter
19) The Blackhawks are kinda sorta amazing.
20) Hockey spelling has been officially changed to "Hawkey" since the Hawks own the NHL.
21) I was talking to a supposed Blackhawks fan and asked him " Who is your favorite Blackhawk of all time?...Stosh? The Golden Jet? JR? Eddie the Eagle? Tony-0? He looked at me and said, "Who?"
22)NEWS ALERT: the remaining 29 teams in the league have threatened to boycott the remainder of the season if the Hawks continue to play unfair.