When I started to look at my google analytics I realized one thing...that my article on the funny tweets,...interestingly enough, was BY FAR my most popular blog to read.
So, for all of you that enjoyed the last article on funny twitter comments,...THIS ONE'S FOR YOU!. Bottoms up. Enjoy.
Let's start off with this one:
theonion
Chicago

Blackhawks

Relatively Silence Boston Fans http://t.co/syvgpdf6iP
Chicago

Blackhawks

to Justin Bieber -- We Forgive You For Being a Logo-Desecrating Dumbass http://t.co/N6oqKpGu2N
Freakin' Schmuck!!!!!
Blackhawks

are the 1st Presidents' Trophy winner to win Stanley Cup since Red Wings in 2008.
Is thanking teams who you beat going to become a regular thing?

Blackhawks

ad in the Boston Globehttp://t.co/07onDl3AOL
Report: Dwight Howard now deciding between Rockets, Lakers, New England Patriots, Food Network, Olive Garden and the Chicago
Blackhawks
Lebron wins the championship talks about his haters.

Blackhawks

win the players talk about their teammates and families.
Sharp on Bergeron: "I saw him give the interview just listing the injuries. I was waiting for him to stop, he just kept going." #Blackhawks
The
Blackhawks
sign Nikolai Khabibulin to a one-year deal. The
Blackhawks
should also sign a designated driver to a one-year deal.
(Referring to the times he missed the team bus).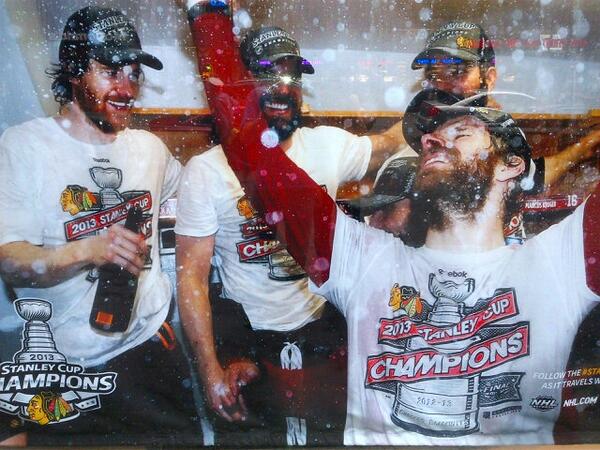 Nice pic, eh?

Hey,..why not 1 more Justin Bieber tweet regarding his logo disgrace, yeah?
It's only fair that the Chicago

Blackhawks

get to stomp all over Justin Bieber with their skates on since he stepped on their logo.